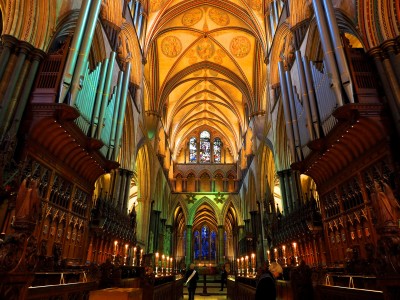 Thus says the Lord: "Stand by the road, and look, and ask for the ancient paths, where the good way is; and walk in it, and find rest for your souls."
Jeremiah 6:16 (ESV)
It was pitch dark as I walked to Vigils at Buckfast Abbey Church on this cold, wet and windy October morning. As I passed beneath a tree, I heard and felt a sound like a giant rug was being shaken out above my head. I had startled an owl that, in turn, startled me.
Upon arriving at the medieval church, I discovered that the sanctuary was nearly as dark as the pre-dawn night. The monks were seated in opposing choir stalls where they sang and chanted the Psalms, the Holy Scriptures, and the prayers of the day. Their forms were faintly visible under the dim overhead reading lamps. Their melodic voices reverberated off the tall masonry walls and the mosaic tile floors, filling the sacred space with the sound of worship.
Our group of pilgrims had arrived the night before in time to attend Vespers at 6:30. Wanting to take-in the full rhythm of daily Benedictine worship, I attended Vigils this morning at 5:45, Lauds at 6:30, Morning Mass at 8:00, and Midday Prayers at 1:00. In order to share table fellowship with my fellows, I missed Vespers, but made Compline at 9:00 in the evening.
St. Benedict placed great importance on the communal observance of daily services—the Divine Order. He called it the work of God. He insisted that nothing must be put before it. Since its founding in 1018 A.D. during the Reign of Canute, the monks at Buckfast Abbey have organized their days around the routine of prayer, work, and study.
The monks see their monastic community as a vocation. It is their expression of Christian life in which commitment to Christ is commitment to others, through whom they enjoy the Lord's presence and support.
Differences of orthodoxy and orthopraxy between Roman Catholic monastic communities and our Baptist community render the former model of little pertinence for our purposes. However, the brothers of Buckfast Abbey have inspired me to reexamine my life in light of two time-honored spiritual disciplines.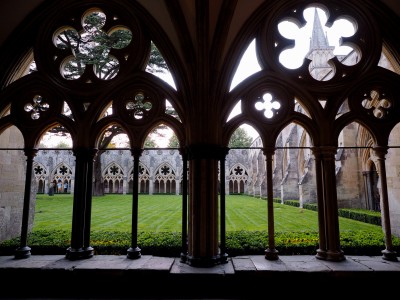 The first is simplicity. Streamlining is an engineering principle intended to reduce drag, increase efficiency, and improve outcomes. Schedules bloated with unproductive activities and environments stuffed with superfluous things increase drag, decrease efficiency, and reduce outcomes. I am resolved to better manage my schedule and my space.
The second disciple is narrowing focus in order to achieve greater impact. My highest values are Christ and his kingdom, my family, and my work. There is merit in the proverbial wisdom that big-game hunters don't waste their powder shooting small game. I intend to focus my time and energies on my heart's chief desires.
A Benedictine monk seals his commitment to the monastic order by taking vows of celibacy, poverty, and stability. By saying "no" to a wife and the prospect of children, to personal property, and to opportunities beyond his particular monastery, the monk says "yes", with a full heart, to the monastic community to which God has called him.
Having prioritized Christ and his kingdom, my family, and my work, I, too, need to embrace these values with a wise and full heart. By saying "no" to the unimportant, the distracting, and the unproductive, I simplify my life. By saying "yes" to my affections, I narrow my focus. These disciplines generate greater productivity and rest for the soul.
---