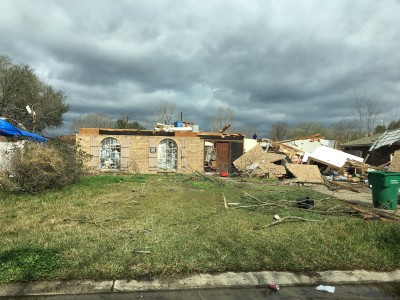 On Tuesday afternoon, February 23, 2016, an EF2 tornado struck LaPlace, Louisiana. The tornado hit with maximum wind speeds of 130 mph. The base was 1/4 mile wide and traveled several miles through the community, damaging over 500 homes and businesses.
Several injuries were reported, though none were reported to be life-threatening. The community gathered to say prayers of thanks that no one died in the twister, and to pray for healing.
St. John Parish President Natalie Robottom called upon the faith community to help lead the response. One of our own NOBA pastors, Checkerz Williams of Celebration River Parish Campus, came forward to help organize the response. Because of his good work, Pastor Williams has earned a reputation as a leader in the community. NOBA connected with Pastor Checkerz immediately, even before Tuesday's storms were finished.
NOBA's next call was to Pastor Paul Naylor of First Baptist LaPlace, whose church became the base of operations for our Southern Baptist disaster relief effort. Several members of First Baptist LaPlace participated in assessing the damage. First Baptist's partnership was key to the success of the response effort.
In the following five days after the storm, NOBA organized DR supplies and workers. NAMB participated in the effort by contributing two pallets of tarps and wooden slats for securing damaged roofs. Louisiana Baptist Disaster Relief leadership helped organize DR mission teams.

NOBA hosted and mobilized over 100 disaster relief missionaries to assist 30 families who sustained heavy damage during the storm. We mobilized disaster assessors, chaplains, roof tarp teams, tree cutting and debris removal teams and Incident Command participants.
God answered prayers for help by sending His Church to serve, comfort and encourage. Those that came to serve in the name of Christ were a great testimony to the goodness of our God.
Please continue to pray for those in LaPlace that have been affected by this disaster. Pray for the Church in LaPlace, that the body of Christ would continue to serve in the strength that the Lord provides.
---