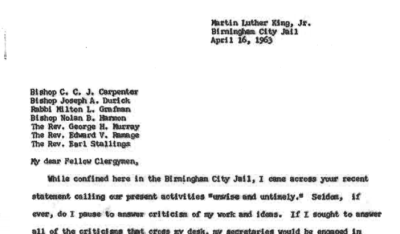 A letter that became much more than a letter was crafted in a jail cell 52 years ago this April. Now known as the "Letter from Birmingham Jail," this document by Martin Luther King Jr. became a catalyzing force in the civil rights movement.
King's letter was drafted to respond to an open letter written by 8 white pastors in Birmingham, entitled "A Call For Unity" and published in the Birmingham News on the day of King's arrest. The message of "A Call For Unity" was highly critical of civil rights protests in Birmingham by people deemed "outsiders" and gave deference to local ordinances intended to preserve order instead of direct actions like civil disobedience intended to hasten the correction of deeply entrenched injustice.
The "Letter from Birmingham Jail" was a point-by-point refutation of "A Call for Unity," and its contents have not lost their influential power throughout the course of time:
"If today's church does not recapture the sacrificial spirit of the early church, it will lose its authenticity, forfeit the loyalty of millions, and be dismissed as an irrelevant social club with no meaning for the twentieth century. Every day I meet young people whose disappointment with the church has turned into outright disgust.

Perhaps I have once again been too optimistic. Is organized religion too inextricably bound to the status quo to save our nation and the world? Perhaps I must turn my faith to the inner spiritual church, the church within the church, as the true ekklesia and the hope of the world. But again I am thankful to God that some noble souls from the ranks of organized religion have broken loose from the paralyzing chains of conformity and joined us as active partners in the struggle for freedom. They have left their secure congregations and walked the streets of Albany, Georgia, with us. They have gone down the highways of the South on tortuous rides for freedom. Yes, they have gone to jail with us.

Some have been dismissed from their churches, have lost the support of their bishops and fellow ministers. But they have acted in the faith that right defeated is stronger than evil triumphant. Their witness has been the spiritual salt that has preserved the true meaning of the gospel in these troubled times. They have carved a tunnel of hope through the dark mountain of disappointment. I hope the church as a whole will meet the challenge of this decisive hour."
Earlier this year our Baptist community launched Baptist Community Health Services in the Lower 9th Ward. Before we opened this full service primary care clinic, there was no hospital, clinic, doctor or pharmacy in the Lower 9th Ward. (There wasn't even a police or fire station, nor a grocery store.) But people live there. In fact, 24,000 people live in our service area, of which 64% are low-income, and 73% of that population is uninsured. 42% of Orleans Parish children live in poverty and 61% live in single-parent households. Nearly 1/3 of the residents of the Lower 9th Ward have no vehicle. The unemployment rate in this community is 14%, more than double the national average.
The prime impediments to health care are lack of proximity to services, lack of transportation, low income, unemployment, and the absence of health insurance. All of these factors pertain to the Lower 9th Ward.
The data consistently demonstrates that the urban poor have a higher chronic disease burden, specifically as it relates to heart disease, hypertension, HIV/AIDS, diabetes, asthma and obesity.
In New Orleans, poverty is a major determinant of health for residents. In plain talk, the poor get sick more often, their conditions worsen more often, and they die earlier than their neighbors with resources. According to the 2013 New Orleans Community Health Improvement Report, there is a 25-year gap in life expectancy between residents of one of the city's poorest neighborhoods compared to the most affluent neighborhood.
May we as Christ followers in New Orleans continue to support efforts (and, if necessary, march and sit-in) to remove barriers that prevent our brothers and sisters from access to quality health care and other opportunities that make a good life and hopeful future. And in the words of our hero in the faith who we remember today, "Let us all hope that the dark clouds of racial prejudice will soon pass away and the deep fog of misunderstanding will be lifted from our fear drenched communities, and in some not too distant tomorrow the radiant stars of love and brotherhood will shine over our great nation with all their scintillating beauty."
**To read Dr. King's letter in its entirety, click here. 
---