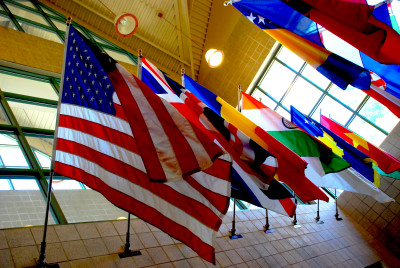 NOBA, you are reaching the nations right here in our city!
On Friday, November 20th over 170 international students, BCM students, and church volunteers assembled at the Alumni Center on the campus of The University of New Orleans for a feast designed to feed both the stomach and the soul. This annual event is put on by NOLA Metro BCM and is led by Kimberly Myers who leads the BCM's ministry to international students at UNO.
The goal of the event is to give the international students in attendance a picture of what an American Thanksgiving feast looks like. The students were treated to many of the same dishes that American families enjoyed when they gathered around their tables this Thanksgiving.
On top of the great food that was enjoyed by all there was a great story that was shared. Lucy Ren, an international student studying at Tulane, shared how she came to know Christ as her Savior. Her journey to salvation began in China when two missionaries shared the gospel with her. It took 10 years for her eyes to be opened but once they were she was never the same again. Lucy would eventually be baptized while in New Orleans at the Chinese Baptist Church.
This event capped off an amazing semester of ministry to international students where we have seen three internationals give their life to Christ. At the beginning of the semester, two Brazilian students who study at UNO professed Christ as savior, and a couple of weeks ago a Chinese student at Tulane gave her life to Christ. She was recently baptized at Metairie Church, which she had been attending with one of our BCM interns.
BCM couldn't do what we do without the tremendous support of NOBA. Your investment makes it possible for us to intersect students with spiritual life change. This event in particular couldn't have been as successful as it was without some specific churches giving above and beyond their gifts to NOBA. A special thanks goes out to First Baptist Church Luling, First Baptist New Orleans, Hope Church, and Williams Blvd. Baptist.
---