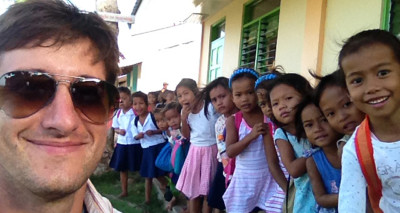 The New Orleans Baptist Association partnered with the Louisiana Baptist Convention and Baptist Global Response to serve the people of the Philippines who were devastated by Typhoon Haiyan.
I was able to join a team of 5 Louisiana Baptist men on a mission to present the gospel and to be a conduit of the grace of God to the people on the small Island of Gibitngil. Because Southern Baptists are a mission minded people, we were able lay aside our privilege and the comforts of our kingdom for a brief moment to go incarnate the Spirit of Christ for a people who do not have the resources to redeem their broken situation.
We were given the joy of following in the footsteps of Christ by laying down our lives in a small way so that the people of Gibitngil Island in the Philippines could experience restoration and renewal by the grace of God through the Church. In the end, the people of Gibitngil proclaimed that God was demonstrating His love for them because He had sent His Church to serve them in their brokenness and need.
We communicated the gospel to the people of Gibitngil Island with our presence, our work, and with our words, and we encouraged them to trust in Christ and place their hope in Him. We told them that believers in Louisiana understand what it means to be ravaged by the storm and have the Church come and be the grace of God to redeem and renew.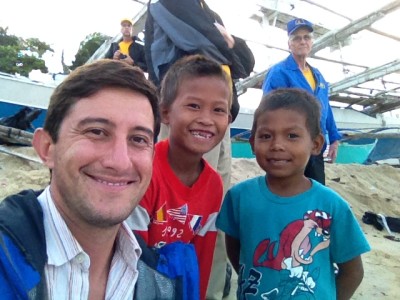 The trip was fruitful. As we went about the work we were able to present the gospel message in word to many people, and we were able to encourage many to hope and perseverance.
As we shared, two men told us that they wanted to place their faith in Christ and we prayed with them. We were also able to spend some time sharing with believers. The principal of the school learned that I was a "values teacher" (ethics professor) in the United States and invited me to teach the students there. It was a great opportunity to discuss with them the idea of justice, the nature of justification in Christ, and what it means to do justice in the world.
I'll share a story that describes one of the many significant events that took place on the trip:
God redirected our path on our first day of work. A tropical storm blew in, hindering us from crossing the sea from the mainland to Gibitngil Island where the school we were helping to rebuild was located. Since we could not go to the school, the local missionary brought us to a family that had lost just about everything to Typhoon Haiyan, including their home (what would be equivalent to a 12'X12′ pole barn in America).
We introduced ourselves to Ray and his family and eagerly went to work. Ray and his family joined us. We sifted through the rubble that was their small home and salvaged as much as we could. We sent for more materials and by the end of a long and productive day we had the exterior walls framed and the roof on. Before we left, we prayed for Ray and his family, and one of our team members, Jeff Cook (LBC) sensed that the Lord was moving in Ray's heart.
Jeff asked Ray if he wanted to place his faith in Christ. Ray believed, confessed, began his new relationship with God, and became a new creation in Christ that day. We left in tears and prayed for Ray all week as we went about the work. On our last day, we asked the local IMB missionary to drive by Ray's place so we could see him once more and say good-bye to him and his family. When we arrived, we all could feel that the atmosphere around Ray, his family, and his home had changed. He was full of joy and had the kind of fellowship with us that brothers in Christ have with one another.
Ray had continued the work, inclosing the exterior, installing bamboo bed mats and adding the kitchen. Ray had done a great job of building a home for his family. Ray and his family was one of the highlights of our trip to the Philippines. I will pray for Ray every time I remember him for the rest of my life and I am confident that we will spend eternity together.
The picture below where we are standing in front of a house is Ray's place. Ray is standing with us. Follow NOBA's Facebook page to see more pictures, or you can follow @joinnoba on Twitter.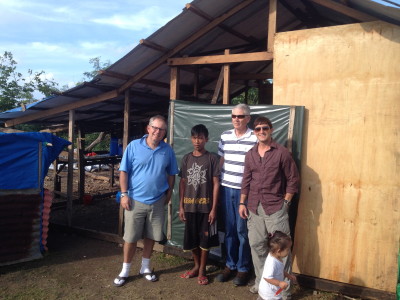 ---