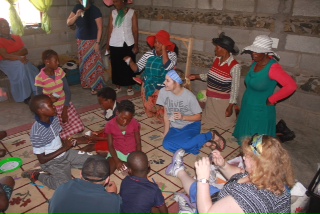 I have to confess that before we started planning this trip, I had no clue that Lesotho existed.
It's a tiny independent nation, about ¼ the size of Louisiana, that is contained fully within the borders of South Africa. But I know now that it exists, and I know that God is working in and through Reclaimed Project team members.
Lesotho has suffered greatly from the AIDS epidemic with almost 25% of the adult population being HIV positive. This has led to about 1 in 6 children being orphaned and almost an entire generation of median adults missing. The need in Lesotho is great, but God is present and active and members of Reclaimed Project are joining in God's mission.
Allison Barnhill grew up at First Baptist New Orleans, and one of her formative faith experiences was on a youth mission trip to Brazil. While the group was in Brazil they ate at a pizza shop that funded the mission work in that area.
That experience stuck with Allison and she and her husband Brett are now part of Reclaimed Project. They serve Christ in Lesotho by empowering churches to care for the orphans in their communities. One of the ways they do this is by equipping ladies in the churches to make bead necklaces, stuffed elephants, and woven baskets. Reclaimed then buys the crafts from the ladies to sell back in the states. The ladies keep between 50-75% of the profit from their craft and give 25-50% to the churches that run the orphan care centers.
This marketplace that Reclaimed Project has created is transforming these communities. The orphans have people who are teaching, loving, and caring for them. They have a new family of peers and a place to belong. The ladies now have an income to support, feed, and educate their families.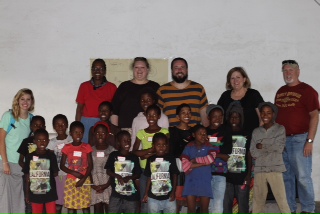 This January, First Baptist New Orleans sent a six-person team to work with Reclaimed Project in the mountains of Lesotho. While we were there, our plan was to lead a VBS at two orphan care centers and to assist with the marketplace day when the ladies would be selling their crafts. Our goals for the VBS days were to love the kids and the caretakers through games, teaching, and fun. In doing this we were attempting to model easy ways that the caretakers could use crafts, games, skits, etc. to enhance the way they teach and interact with the children.
I was so impressed with our team and the depth of their love and service each day. Everyone had a role to play, and the Reclaimed staff created great opportunities for service. We were able to share about God's Kingdom of Light, Life, Truth, Peace, and Hope.
Reclaimed Project is doing a great work in Lesotho. We are excited about our partnership with them. Our team was changed and reminded that our definition of family is being redefined just like the orphans of Lesotho.
---