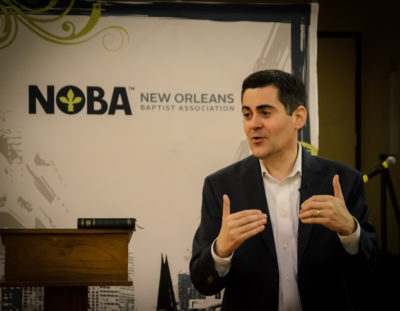 As reported in recent articles in the Wall Street Journal and Christianity Today, Dr. Russell Moore is again the focus of criticism among some Southern Baptists for positions that he took during the Presidential campaign, things that he said, and the way that he said them.
At the 2016 meeting of the Louisiana Baptist Convention, the Executive Board took under advisement a motion to "study the recent actions of the SBC Ethics and Religious Liberty Commission with regard to issues of concern to Louisiana Baptists."
We are pulling for Dr. Moore. Here's why.
Dr. Moore speaks with a prophetic voice to our faith community about how to live for Christ and his kingdom in our culture.  We don't expect him to gauge our opinions on social, political, and economic issues and then promote our consensus position.  He's a leader raised up by God to help guide us in this new day.
He doesn't speak just to us. He also speaks to our culture and to those who shape it.  Should we be embarrassed that Dr. Moore has rebuked the behavior of persons who have risen to positions of political power?  Should we de-fund the ERLC because a person whose character he's criticized has achieved the highest office in the land, besting another candidate whose behavior and policies he also rebuked?
Dr. Moore has demonstrated that he will not "go along" in order to "get along" with persons in political office. Are there Southern Baptists who expect this of the person who leads the ERLC? We don't. Moreover, we believe that Dr. Moore is especially well-suited to engage the culture with the gospel of Jesus Christ, and, as such, is ideal for this post.
Some note that Dr. Moore's tone has been, at times, direct, sharp, and critical, and that it hasn't always been as statesmanlike as perhaps it could have been. If, in his zeal for righteousness, Dr. Moore has offended brothers in the cause of Christ, then he should reflect, confess, and seek to make amends, where appropriate. We were not surprised to read just such an apology from Dr. Moore in his Christmas letter.  You may read it in its entirety here.
Dr. Moore has also been a zealous advocate on behalf of the unborn, the family, the vulnerable, the weak, and the strangers among us, and vigorous in his defense of religious liberty and against racism.  We commend him for his leadership, and pray that God will continue to grant him wisdom to know the right, strength to stand for it, and voice to speak it.
Southern Baptists also will be held to account for how we respond to the prophetic voices that God has given us.
Martin Luther King was another during our lifetime that spoke with a prophetic voice on important issues of social justice.  He, too, was a Baptist preacher. Many in the mainstream rejected his message and despised him.  Despite the opposition, he did not shrink back.  As a faith community, we have still not made up the ground that we lost decades ago because of our rejection of his message of justice.
Dr. Moore speaks with a prophetic voice to this generation. We may not like everything that he says, but we fear what our faith community may become if we lose his voice.
Our allegiance is not to a political party or majority opinion, but rather to the person of Jesus Christ and to his kingdom.  We are grateful for the clarion voice that God has given Dr. Russell Moore.  He has helped us navigate the intersection of the faith once given to the saints and contemporary culture.
We're praying that Dr. Moore's heart will be kept humble before God and his people, and that he will continue to call us to Christ and the gospel despite this latest round of criticism.
For Christ and his kingdom,
Fred Luter, Jr.               Chad Gilbert
David Crosby                 Page Brooks
Mike Miller                   Anna Palmer
Geovanny Gomez           Jay Adkins
Larry Johnson                Jack Hunter
---