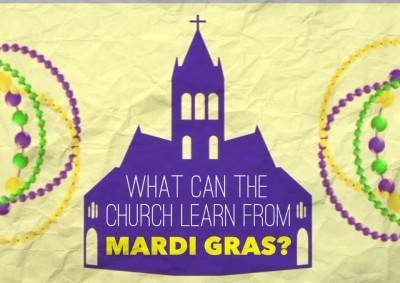 Christians are often divided on Mardi Gras and the extent to which we should celebrate or participate in it, but no one can argue that it is an integral part of New Orleans culture.
Often the revelry associated with Mardi Gras can be seen as negative or sinful in nature.  After all, most people see it as a time of overindulgence, drunkenness, indecent public exposure, idol worship, etc.
However, I believe there are many positive things the church can learn from Mardi Gras.  Here are 7 observations made from the Carnival season:
1 – WE SACRIFICE FOR OUR PRIORITIES
People come out from all over the city, our state, nation, and world to celebrate Mardi Gras.  Revelers often endure long lines of traffic, horrible bathroom accommodations, risky atmospheres, and much more to party, rain or shine.  Yet we make excuses for not being able to follow Jesus, gather with the church, or live in full obedience to God's commands.
You make great sacrifices for what is of the highest priority in your life.  Jesus says in Luke 9:23b-24, "If anyone would come after me, let him deny himself and take up his cross daily and follow me.  For whoever would save his life will lose it, but whoever loses his life for my sake will save it."  Following Jesus is never easy or convenient.  We have to give up everything and follow Him.  He will lead us to what is priority.  Read your bible.  Pray.  Share your faith.  Be the church.
2 – PEOPLE WANT COMMUNITY
After attending a parade recently one of our church members remarked, "Wouldn't it be great if we could get people as excited for Jesus and His Church as they are for Mardi Gras!"  Truth is people aren't looking for a friendly church; they're looking for friends.  The desire for love, acceptance, and authentic relationships is built into the very fabric of human nature.  God built us for community.  Mardi Gras is a reflection of what community should look like in the church–Families line the parade routes, race and age cease to matter, friends join together to have a good time, and entire communities come out to cry out, "Throw me something, Mister!"
3 – FOOD & DRINK MATTER
The experience associated with Mardi Gras goes beyond floats, costumes, and beads.  Good food and drink top off the experience.  Some use the occasion to overindulge in alcoholic beverage, but none can argue how amazingly awesome the Mardi Gras dessert known as King Cake is to partake of during this season.
Couple King Cake with the beginning of crawfish season and the amazing local, Creole, Cajun-inspired dishes here in our city, and the Mardi Gras experience is a communion meal like no other.  The bread and the wine are not evil.  The problem is that we overindulge in the bread and wine to our own glory rather than celebrating the gospel, community, and mission of Jesus Christ.
4 – MUSIC & DANCING SHOW CELEBRATION
Mardi Gras balls, second lines, and parades all have great music, often very loud, celebratory music, coupled with dancing.  Bands and dance groups often fill the gaps between floats in Mardi Gras parades.  The same type of celebration should be evident in our churches.  I'm not advocating for inappropriate dancing drawing attention to ourselves, but spontaneous and joyful celebration for what excites us most.
I remember the party which took place after the New Orleans Saints won their first Super Bowl.  It was crazy.  It was fun.  It was exciting.  Then why are so many of our churches dead?  Shouldn't Jesus provoke us to an even bigger party, a greater celebration than we show for our football or Mardi Gras?  Psalm 149:3-4 reads, "Let them praise his name with dancing, making melody to him with tambourine and lyre!  For the Lord takes pleasure in his people; he adorns the humble with salvation."
5 – LIFTED HANDS LEAD TO GIFTS
At parades, kids and adults alike go crazy lifting their hands and begging for inexpensive strings of beads, toys, candy, and doubloons.  If Christians could only have half the passion shown by revelers in Mardi Gras as we lift our hands in worship and surrender to our Lord, Jesus Christ!  Lamentations 3:40-41 reads, "Let us test and examine our ways, and return to the Lord!  Let us lift up our hearts and hands to God in heaven."
Lifted hands are synonymous with a surrendered heart.  It is an acknowledgement of our depravity and His divinity.  God gives us an even greater gift when we surrender to Him:  His Holy Spirit living in us.  Jesus tells us in Luke 11:13, "If you then, who are evil, know how to give good gifts to your children, how much more will the heavenly Father give the Holy Spirit to those who ask him!"
6 – CULTURE UNITES
Mardi Gras is a celebration.  The celebration is so big that it has become a holiday.  Schools and businesses shut down across the city and region in recognition of the Carnival season.  Whether you celebrate the holiday or not, there is no denying that it shapes our culture.  Just show up to a parade and you will see every age, color, class, and lifestyle demographic in attendance.  The church should be just as diverse!
Pastor Matt Chandler of The Village Church writes, "If a church declares that the gospel is the most important message the world has ever known, and yet the gospel is not seen as the impetus and motivation for all the church offers, this disconnect is indicative of an unhealthy church personality or culture."  A culture centered on the Gospel of Jesus Christ will unite us in mission.  Theologian D.A. Carson states the church is "a band of natural enemies who love one another for Jesus' sake."
7 – PEOPLE WILL SHOW UP
Here is where the application is fully realized:  People will show up for an exciting celebration.  Period.  Excitement and passion are contagious.  The church is united by the Gospel of Jesus Christ and sent out to celebrate Him and make His name known among the nations.  Archbishop William Temple wrote, "The church is the only cooperative society in the world that exists for the benefit of its non-members."  Our celebration of Jesus Christ shouldn't be contained by the walls of the church, but should echo throughout our city by the power of His Holy Spirit living within us!
"You are the light of the world.  A city set on a hill cannot be hidden… Let your light shine before others, so that they may see your good works and give glory to your Father who is in heaven." –Matthew 5:14,16b
What can the church learn from Mardi Gras?  Much.
written by Dean Ross (February 2013)
quote from Matt Chandler and D.A. Carson taken from "Creature Of The Word" written by Matt Chandler, Josh Patterson, and Eric Gieger.
quote from William Temple taken from "Tales of the Neverending" written by Mark Littleton.
scripture quotations are from The Holy Bible, English Standard Version (ESV), copyright 2001 by Crossway.  Used by permission.  All rights reserved.
---