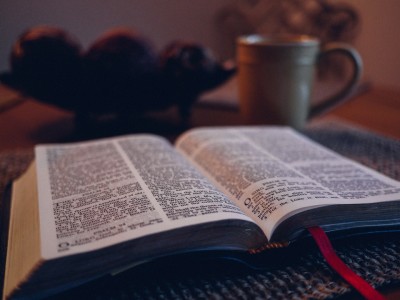 As I entered the meeting room, I saw Pastor Jerry Davis seated near the sound booth. Pastor Davis is a man of God I am privileged to call my friend, but also a mentor. As we warmly greeted one another, he said, "I am here because of you."
Now before I come off as big-headed, I need to tell you about Pastor Jerry Davis. Pastor Davis has been preaching and pastoring longer than I have been alive (I am 33). He is a pastor that literally took me under his wing, inviting me to his table, including me in his conversations, encouraging and instructing me personally as a pastor.
I have called and sought his advice. He has encouraged, exhorted, equipped, and corrected me. When this great pastor says, "Beloved," he means it, and I know that I am loved as if I were his own son.
So, when Pastor Davis said, "I am here because of you," I heard, "Son, I love you and I am here for you," much the way a father comes to a son's baseball game. Most kids who really love the game didn't just pick up a glove that morning – most of the time they had a dad who had been coaching them for years – who really never stops coaching and supporting them.
Three lessons have been planted in my heart by pastors like Jerry Davis, each touched on during the Pastor's Roundtable discussion on preaching.
You can only be you.
I don't know if I have ever seen a group of pastors laugh as hard as I did watching Pastors Jerry Davis, Cornelius Tilton, Dennis Watson, Frank Davis, and others cut up about the preachers they had mimicked earlier on in their pastorates.
As it is for many guys my age, I found myself sounding more and more like David Platt. We all know we pick up mannerisms and phrasing from the folks we listen to, but I realized I was bordering on doing an impersonation! As these great pastors and preachers of God's Word continued to reminisce, it was obvious that each one of them had embraced their God-given uniqueness and were fully alive, by the Spirit, in their own skin.
The process of figuring out who you are can be tough, but nothing is more painful than awaking to the thought that you are an impersonator – really, an imposter – posing as the real deal. God used Dangerous Calling by Paul David Tripp and Overcoming the Dark Side of Leadership by Gary L. McIntosh to help me become more confident than ever before in God's sufficient grace within this skin of mine.
God's Word must continually shape you.
More often than not, I attempt to master the text rather than beg God to master me with the text of His Holy Word. It has often been said that the constant dripping of water wears away the stone – how much more so a Niagara Falls-like flow of God's Word in your life.
For the first two years of my pastorate I was in God's Word, but not going through God's Word. Nothing altered the course of my life, my marriage, my family, my pastoral care, my preaching, and my prayer life like going through God's Word – all of it – again and again and again. The Word of God must shape the preacher, and as it does, the Word of God will more and more be heard and seen in every sermon.
Stay and love the church.
Mike Miller noted how deeply he loves FBC Kenner. Not only that, he also noted how genuinely loved he feels as their pastor. Such love did not come without a choice to stay. I hear the statics for pastor tenure among Southern Baptists and it seems unreal.
I don't know how many "offers" Mike has received since moving to New Orleans, but I know that doesn't matter because pastors that want to leave New Orleans, do – offers or not. Mike has been faithfully pastoring FBC Kenner for over six years, and it has really made all the difference. In fact, the mechanic I frequent in Gentilly is a man who is a member of FBC Kenner. His name is Jerry, and I have witnessed the transforming power of God's Spirit in this man's life.
He sees me coming and we start talking about what "Pastor Mike" has been preaching. This man was a Catholic, now born-again, and is being sanctified by the power of God's Spirit within the context of a healthy church, cared for by a man who loves him as his pastor. Just because we stay somewhere for many years does not mean we will love them well, but it is pretty hard to love well a people you hardly stay with long enough to even learn their names.
---