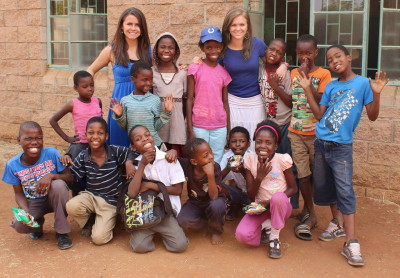 Allison Barnhill works with Reclaimed Project, a ministry committed to exalt Christ by fulfilling the Biblical mandate to serve the poor and orphaned. She and her husband Bret were missionaries in Botswana before going to Lesotho and they will soon relocate to Zimbabwe. They start orphan care ministries through local churches and work with congregants to develop enterprise that sustain the ministries to orphaned children. Once a work is established with programing and leadership, the Barnhills move on to the next community or country to which God is calling them.
Allison shares this reflection on Compassion vs. Gospel:
How can we take time for compassion ministries without taking AWAY from the urgency of proclaiming the gospel?
When I look at the life of Jesus, I see a man who was always "on his way" somewhere to share the gospel. On his way to his destination, someone with a physical need often interrupted him. Jesus never said, "I am busy. I am on my way to share the gospel." He always used human need as an opportunity to share truth and show love.
He was never too busy. He was never afraid someone would become dependent on him. He was interruptible. He was not afraid to engage the "messiness" of poverty.
Sustainability is immeasurably important. It should be a goal of all compassion ministries. However, it is not the ultimate end. Jesus healed people who later died. Jesus fed people who would be hungry again. Jesus calmed storms that would rage again.
His compassion was part of his proclamation. He proclaimed the gospel in word AND deed. He didn't choose one or the other. In his heart, they were bound up together. They were interwoven pieces in the fabric of his life.
I don't think we have to choose between compassion and truth.  Can we truly proclaim truth without exhibiting compassion? Can we truly exhibit compassion if we don't proclaim truth?
Lord, interrupt us with the messiness of poverty. Let it "distract" us. Not from the gospel, but from ourselves. Let us be SPENT on behalf of the poor and for the sake of the gospel.. Why? For your glory, because glorifying YOU is the ONLY truly sustainable thing we can ever do.
---