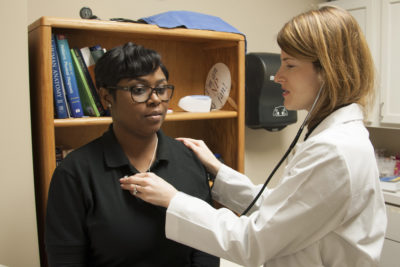 Baptist Community Health Services CEO, Shawn Powers, announced today that BCHS has been awarded Federally Qualified Health Center Look Alike status.  This award certifies that BCHS meets all 19 federal qualifications required by the Health Resources and Services Administration.
BCHS is a multi-site, non-profit community health center, with clinics in New Orleans' 9th Ward, Lower 9th Ward and Chalmette.  BCHS' Lower 9th Ward locations include the Pete Sanchez Community Center, where the City of New Orleans and NORD provide space for a full-time BCHS clinic.  BCHS offers pediatrics, family practice, internal medicine and behavioral health services.
The 900-page application, a 10-month process that included an onsite inspection by federal regulators, documented that BCHS is providing healthcare at the highest level.
The Lord is responsible for the achievement of this day.  He led the churches of the New Orleans Baptist Association to envision a healthcare mission that they launched and have sustained.
God moved the North American Mission Board to affirm the Association's medical mission strategy to the underserved of New Orleans, and allocated assets to BCHS that had been committed to compassion ministries in New Orleans.
He also prompted Baptist Community Ministries, a health legacy foundation in New Orleans, to grant millions of dollars and provide technical consultation to BCHS.
BCHS CEO stated, "This award will allow us to better serve our patients who rely heavily on the services BCHS provides."  Powers added, "Many of our patients have no alternative for their primary medical needs.  We are honored to provide high quality medical care to those who need us most."
BCHS also confirmed in 2017 it anticipates giving away more than $750,000 in free medications and pharmaceuticals.  Helping people build healthier lives through all aspects of their physical, mental, and spiritual care is the heartbeat of BCHS.
BCHS is governed by a community board, whose members include active patients of BCHS, local civic and non-profit leaders, as well as medical and behavioral healthcare providers.
BCHS, a tax-exempt non-profit, is now launching its 2017 year-end giving campaign, and invites all prospective donors to consider making a financial contribution to the ministry of BCHS.  Gifts may be mailed directly to BCHS or give online.
For more information, contact BCHS' CEO, Shawn Powers.
---