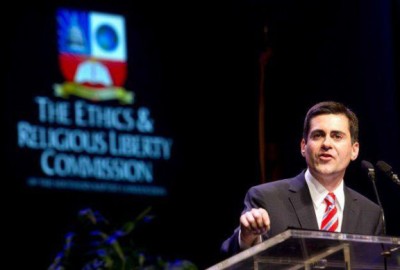 Two-thirds of the Cooperative Program money given in Louisiana for world missions stops in Alexandria. This week those CP funds were used to attack Russell Moore, head of our SBC Ethics and Religious Liberty Commission.
Editorialist Will Hall is paid by these same CP funds that publish the Baptist Message. Though my church sends a hefty check to the CP, Mr. Hall certainly does not represent me in his piece maligning Dr. Moore.
The leader of the Ethics and Religious Liberty Commission has as much responsibility to speak TO Southern Baptists as to speak FOR Southern Baptists. In fact, no one really speaks FOR all Southern Baptists. That was true for Richard Land as well as Russell Moore.
The responsibility to speak TO us about our own moral condition and ethical responsibilities is no easy task, especially in these days. It is the task of the prophet. Most often God's people want to kill the true prophets and keep the false ones.
Russell Moore makes me uncomfortable sometimes. He challenges my own perspective and opinion. I am grateful that he does so. That is his job.
His approach is clear. He measures everything by the gospel of Christ. He is a purist in this regard, and he makes no bones about it. He wants Southern Baptist behavior to line up with the words and character of our Lord Jesus. You can count on this to be his approach. He is trying to faithfully apply the gospel on contemporary issues.
Some of our attitudes and opinions are off point. Some of them are unchristian. This is true of all of us. We need an honest man who will speak to us, not what we want to hear, but what we need to hear. Russell Moore is attempting to do that. He is not betraying us when he differs with us and ruffles our feathers—he is being faithful to us and to his calling.
Moore's position has always been the hot seat among us. When Richard Land led the effort to apologize for support of slavery and Jim Crow laws, many were upset at him. But he was seeking to be faithful to the gospel.
We should resist the temptation to regard with suspicion those who differ with us on political and social issues. Russell Moore is faithful to the gospel. He speaks and writes with clarity and conviction. He is one of us, and he deserves our continued support and engagement.
---